Today is election day in Sri Lanka, and today's post is from Adele Barker, who was awarded a Ucross Fellowship for her work on her latest book, Not Quite Paradise: An American Sojourn in Sri Lanka. Barker has taught at the universities of Arizona and Washington, and is the author and editor of five books on Russian literature and cultural life. In 2001-2002 she received a Fulbright Senior Scholar grant to teach and write in Sri Lanka. After the tsunami she returned to the island where she traveled to the areas most devastated by the waves and by the thirty year old civil war between the Tamil Tigers and the central Sinhalese government. This post is part of a series, appearing at the Huffington Post marking the anniversary of the 2004 tsunami.
January 4, 2010
It's kite season on the Jaffna Peninsula in northern Sri Lanka. On the tip of the peninsula, people are flying their homemade kites along the sea's edge with a little help from the northeast monsoon winds.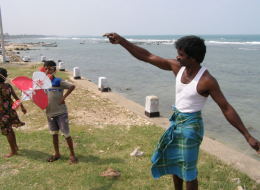 It's a good season up here for other things as well. Peace has come to the north of this war torn country. It's a very different place than it was three years ago when I was here. Sri Lankans from all over the island are now free to travel to the north. For foreigners it is still problematic. Small guest houses that had gone to ruin are being rebuilt. Just outside of town the land is being cultivated for the first time in many many years. People are busy turning the soil, and planting everything from onions to cabbage and chilies on land that was occupied by the military during war time. Each week more land is being released back to the population at large, something that is absolutely crucial given the number of people up here who need to be resettled.
Downtown Jaffna is booming with the kind of energy that tells you that this is an area intent on rebuilding. Three years ago when I was up here working on my book Not Quite Paradise: An American Sojourn in Sri Lanka, the center of Jaffna looked like a poster city for civil war, twenty-six years of it to be exact. Mostly the stores sold tools and twine, the markets were bare, textile shops sat waiting for the odd customer. The only shops that seemed to be doing well were the ones selling bicycle seats since petrol was both expensive and generally unavailable.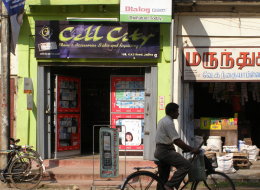 My son and I walked down the streets today making our way between the crush of cell phone stores, book and school supply places, and mercantile stores with barrels stacked with rice that is supposedly in short supply, garlic from China, sugar from Colombia, coca-cola and Fanta, and Bombay sweets. People moved in and out of shops with electric appliances, some were loading corrugated tin used for roofing onto tractors, carts, or, dispensing with the first two options just loaded the roofing onto their backs and headed down the street. Door handles seemed to be doing a particularly brisk business today. These are all signs of a city that believes that peace is here to stay, that the house they build today won't be shelled or bombed tomorrow.
Point Pedro lies at the extreme north of the Jaffna Peninsula. In a village nearby occupied mostly by fishermen stands the house where Vellupilai Prabhakaran, the founder and leader of the Tamil Tigers, was born and lived. Three years ago I had visited and written about the place. I wanted to go back this time. On my first trip the house sported colored tiles on the outer wall in Tamil, Sinhala, and English identifying it. My son and I walked among shattered stone and broken tile the other day. Prabhakaran's name lies smashed and scattered with debris and garbage in the yard. What is left is a shell of a place no different than any other house up here, all equally victims of this war.
There's still a lot to do here. It is a post-war period which means that there is still a heavy military presence. Places one could go three years ago are now off limits for reasons that seem difficult to explain. Sinhalese soldiers, some 18 or 19 years of age, stand holding Ak-47s as bicyclists and pedestrians pass. General Sarath Fonseka who is running for President against the incumbent Mahinda Rajapakse, promises that if elected, he will dismantle most of the military presence. Some of the security is due to the fact that the peninsula has not yet been completely demined. The Halo Trust that is responsible for de-mining operations up here was close to completing the job several years ago. But then the violence started up again. "I'm worried that Jaffna is going to become a de-mining backwater," a man from Halo told me yesterday. "Everyone has shifted their attentions south to Killinochchi, but we've still got work to do up here." He told me about another problem as well. De-miners generally find out about the location of mines from the local villagers. A cow might step on one, or worse one of the villagers. "There's no one to help us find the mines," he told me. "They all got put into the IDP (internally displaced persons) camps. There's no one in the villages anymore."